Types of Design Courses Online
Use of Online Course Components
Concepts and Ideas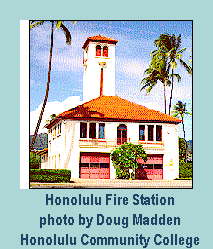 My plans for using online instruction in the courses I teach is two-fold. One is to encourage students to be self-directed learners by incorporating asynchronous learning components available online and in the library into traditional F2F courses. These could be a variety of courses, but all of which would require the student to access them independently of the class meeting time, and include external links to other resources. One idea I have for my Architectural Drafting & Design class is to have a narrated slide show on Vernacular Architecture.
Another is a long-term goal to develop a hybrid course based on both synchronous and asynchrounous learning. I worked on the course design for my Teaching and Learning Models for Online Courses class I took previously in the UCLA Online Teaching Program. It is for a course in Architectural Construction Documents based on a team-approach. The goal is to have all of the instructional materials to be available asynchronously to all the the students on all of the teams, to be completed within a specific framework independent of any specific meeting times. A discussion forum is available to the students to collaborate and discuss these course materials. The individual teams are required to schedule one two hour regular synchronous meeting time per week, to organize and discuss the required project documentation drawing. These meetings can be F2F, but theoretically could also utilize any technology the facilitates conferencing from multiple locations.
I currently teach a similar course which is evolving toward this design. A few online teaching components are under development. One subject was developed as part of my Facilitative Tools for Online Learning course. The current course utilizes discussion forums for the course work and the team's collaboration. The team meetings take place both as F2F meetings, or as independent collaboration with coordination via email. I have found that learning style preferences influence the choice of method for these meetings. Some students want the F2F meetings for the structure and the interactive support. Other students want to be free from specific time and space constraints and collaborate via email as they are comfortable in a very independent learning environment.

---